ABC Travel Guides for Kids Names Top 7 US Family Destinations for 2014
---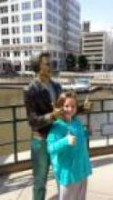 PHILADELPHIA,
December 17, 2013 /KidZNewswire/ --
Thumbs Up for Milwaukee as Cream City and the Bronze Fonz take the top spot and Mid-Atlantic destinations feature prominently in
ABC Travel Guides for Kids
annual list.
(Photo:
http://photos.prnewswire.com/prnh/20131216/PH34074)
1. Milwaukee, WI ? Nicknamed Cream City because of its cream colored brick buildings, families can kayak through downtown, ride on a Harley and step back in time on the Streets of Old Milwaukee at the Public Museum. Kids will enjoy a Milwaukee Food Pizza Bus Tour and visiting the Palermo Pizza Factory tour. Check out
Melthouse Bistro
too for gourmet grilled cheese sandwiches and make sure to save room for Leon's and Kopp's frozen custard.
2. Washington DC ? Three years in a row on our list for our Nation's Capital for the simple reason the city offers so much history, culture and free family fun. Start a new tradition this year and visit the Smithsonian Museums on New Year's Day ? they are open! We love the DC Grand Hyatt.
3. Miami, FL ? Adventure, art, food and culture. Start with a Grace Della food tour and then venture out of the City to attractions like Monkey Jungle and Coral Castle. Circle back to South Beach and soak in the sun and atmosphere of fun on the beach. We only stay at The Palms Hotel & Spa in Miami Beach.
4. Philadelphia, PA ? Kids love walking through the giant heart at the Franklin Institute. Take your picture next to Rocky then run to the top of the steps of the Art Museum. Visit Magic Gardens and Jim's Steaks on South Street. We love both Kimpton properties and Le Meridien for lodging.
5. North of Boston region, MA ? Visit Cape Ann, Gloucester, Rockport and Salem. Take mansion tours at Hammond Castle and Beauport and walk to the end of Bearskin Neck in Rockport.
Joe's Playland in Salisbury
is old school arcade fun. We love Woodman's for great seafood. The Yankee Clipper and Rockport Inn and Suites are two great lodging options.
6. Times Square, NY ? Start at the Times Square Museum & Visitors Center and then ride the giant Ferris Wheel inside the ginormous Toys R Us. Admire the Wall of Chocolate and learn your Color Mood at the M&M superstore. We love Ripley's New York at Times Square. See Newsies on Broadway.
7. Baltimore, MD ?Visit Inner Harbor's National Aquarium, Science Center and Ripley Attractions. Foodie kids will love McCormick's World of Flavors; all kids will love the Visionary Art Museum. Take a water taxi to Fells Point and then walk to Little Italy for sweet treats. The Shot Tower, Star-Spangled Banner Flag House and African American Museum are all nearby too. The Inner Harbor Hyatt with skywalk is the perfect spot near all the action.
Media Contact: Matthew Rosenberger, 215-242-4011,
mgr@fast.net
and
mgr@kidstravelguides.com.
ABOUT
WWW.KIDSTRAVELGUIDES.COM
ABC Travel Guides for Kids is the premier producer and publisher of all-in-one alphabet, activity and souvenir guides specifically designed for kids.
PR courtesy of PR Newswire
Categories:
Advertising
,
Lifestyle
,
Media
,
Travel
Source:
ABC Travel Guides for Kids