Marriott Hotels in Sydney Launch a New Concierge Program Exclusively for Teens
---
"This City My Way" Lets Teenage Travellers Experience the City Like Locals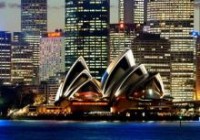 SYDNEY, AUSTRALIA,
December 31, 2013 /KidZNewswire/ --
Visiting Sydney on a summer holiday as a teenager is a lot like going out on a Friday night. The experience can be amazing and memorable so long as one knows where to go and what to do. Otherwise, it's about as exciting as staying at home with one's parents. Two Sydney hotels, Sydney Harbour Marriott Hotel at Circular Quay and Courtyard Sydney-North Ryde, understand this and have accordingly launched an exclusive Teen Concierge program to ensure their teen visitors see the best of the city.
"This City My Way" is a digitally-led concierge program by teenagers and for teenagers designed to share the best places to shop, eat and play in Sydney. At the helm are 18-year-old Felicity Light and 19-year-old Gemma McDonald who, between the two of them, cover such need-to-know information as the best chocolate shops in town, where to learn how to windsurf and the particular advantages of touring Sydney Olympic Park's Newington Armory via a Segway.
For families looking at
North Ryde hotels in Sydney
, this Teen Concierge program may be the deciding factor. After all, as parents fit in a workout at the 24-hour fitness centre or enjoy a quiet meal at Orchards Restaurant & Bar, their teenage kids can follow up on a tip from Light or McDonald on the best free festival happening that weekend. Then the whole family can reunite within the hotel's comfortable lobby before setting out on another sightseeing adventure together to Lane Cove National Park, for example, or the SEA LIFE Sydney Aquarium.
Travellers who prefer closer to Sydney, Australia's landmark Opera House can also access Light's and McDonald's insider tips for things like the city's best cupcakes and dumplings. The Sydney Harbour Marriott at Circular Quay puts guests in the heart of Australia's capital city and within easy access of all its top attractions. (It also offers an extremely convenient Early Arrivals Lounge where guests can shower and catch a few winks if they arrive before check-in.) From the enviable location of this
Sydney Harbour hotel
, parents and teens can simply explore the city to their own preferences, separately or together, confident that they're seeing the best of what the city has to offer. And that beats a generic Friday night any day.
Connect with the Sydney Marriott Teen Concierges at
http://thiscitymyway.com.au/sydney/
and
http://thiscitymyway.com.au/tag/sydney/.
About the Sydney Harbour Marriott at Circular Quay
As the financial and economic centre of Australia, Sydney is a commercial hub that attracts business travellers from around Australia and the globe. And there is one place that caters to them all: the Sydney Harbour Marriott at Circular Quay. Overlooking the sparkling Sydney Harbour Bridge and the iconic Sydney Opera House, this 5-star hotel is a relaxing and sophisticated getaway that offers spectacular views and a prime location right in the heart of Circular Quay. Guest rooms and suites are outfitted with LCD TVs, coffee/tea service, high-speed wireless Internet access, in-room dining and luxurious beds. There are three restaurants on-site and a fully-equipped health club with a hydrotherapy spa and swimming pool. This elegant city hotel provides the quintessential Sydney experience.
About the Courtyard Sydney-North Ryde Hotel
The Courtyard Sydney-North Ryde Hotel offers travellers a central location in the heart of Macquarie Park, the prominent North Ryde business district that is home to a host of international businesses; while also providing easy access to ANZ Stadium, Allphones Arena and Macquarie University. Guests are pampered with complimentary wireless Internet, opulent bedding ensembles, individual climate control and in-room dining to ensure they have everything needed for a productive and memorable stay.
CONTACT:
Sydney Harbour Marriott Hotel at Circular Quay
30 Pitt Street
Sydney, New South Wales 2000 Australia
61-2-9259 7000
http://www.marriott.com/hotels/travel/sydmc-sydney-harbour-marriott-hotel-at-circular-quay/
Courtyard Sydney-North Ryde
7-11 Talavera Road
North Ryde, New South Wales 2113 Australia
61-2-9491 9500
http://www.marriott.com/hotels/travel/sydry-courtyard-sydney-north-ryde/
PR courtesy of Marketwired
Categories:
Entertainment
,
Lifestyle
,
Media
,
Travel
Source:
Marriott International