Millicent Designs Offers Personalized Uniform Service for Better Customer Experience
---
Millicent Gordon of Millicent Designs is now offering custom made uniform clothing design service.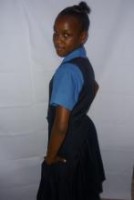 Kingston, Jamaica,
September 25, 2013 /KidZNewswire/ --
Millicent Gordon is pleased to announce her new custom made clothing design service for children. "I wanted to provide a more personalized service for my clients to make their experience easier and stress free," says Gordon. Often kids are nervous when it's time to have their new uniforms made.
"Instead of clients coming to me to be measured and fitted I will now go to them", she continued. "Many of my clients are children and the more comfortable they are the easier it is to get the job done. You can't be any more comfortable than in your own home."
Offering this service will also expand her client base because clients can choose their own day and time when they are available to be measured and fitted and have a one on one session with Gordon. She is willing to work with her client's schedule to improve their experience of getting custom made clothes.
Millicent Designs is also offering this personalized service to adults. "In this technological age work hours vary for many of my clients so the traditional 9-5 in many cases no longer exists. By extending this service to the adults it will make things much easier for my clients."
"I love the fit and feel of my uniform. It feels good because it is made just right for me," says one satisfied client.
"My uniform fits me better than any store bought uniform. I love Ms. Gordon. She listens to me and answers any questions I have," says another client.
Millicent Designs have been in business for over 20 years specializing in school uniforms, women?s clothing and wedding dresses. Gordon?s motto is, ?If you can imagine, I can design it.?
Categories:
Clothing and Accessories
,
Education
,
Lifestyle
,
Media
Source:
Millicent Gordon