The Zodiacs Begin 2015-2016 Indoor Season at the Colgate Women's Games & Unveils New Uniforms
---
The Zodiacs unveils their new uniforms to the masses. New look, new attitude.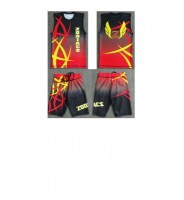 Bronx, NY,
December 20, 2015 /KidZNewswire/ --
The Zodiacs are proud to participate in the
Colgate Games
in the 2015-2016 indoor season. In celebration of the new season the Zodiacs debuted their new warm ups and runners at the Games.
"First let me start by saying all praises due to the most high for giving me a staff of incredible volunteers that care for my athletes like they are God's Angels from above. Without them nothing is impossible," says Team President and Coach Thomas Francis.
"The indoor 2015-2016 season is now in session and we have a new PR rep that will be writing our articles, Ms. LaToya Byfield who will be promoting us online and utilizing
KidZNewswire
to spread the word," he continued.
"With the new uniform and running suit to represent the change, my staff and are committed to continue to follow the legacy that that was set before us by Mr. Robert Taylor," said Francis.
The Zodicacs are the longest running non-profit track and field organization in the Bronx. This year is very exciting for the team. There are lots of new recruits that are very anxious to run.
Our first track meet fortunately is great for the girls. They will compete in the Colgate Women's Games which began on Friday, December 18th with the high school girls, Saturday 6th-8th grade and Sunday 1st -5th grade.
Sunday is a double header for us. Our boys will be at the Amory to compete in the USATF season opener and compete in in events like the 55M, 200M, 400M, 800M and relays. This calls for all hands on deck because the coaches will have to split up in order to accomplish both tasks.
"I credit the communication and respect for each other for one common goal for our kids to make this happen," said Francis.
Anyone interested in the Zodiacs can contact Coach Francis, President at 718-679-2060.
About The Zodiacs
Zodiacs Track & Field Organization
, Inc. provides our youth with an avenue to showcase their exceptional abilities to potential college and university admissions department recruiters. We encourage our members to apply for all available scholarships.
We also believe our program empowers our youngsters to make positive, healthy life-style choices and fights obesity. Our program allows our athletes to feel good about who they are and what they do, and strives to ensure that they will become positive, socially conscious role models for their peers.
We aim to be part of the solution, not part of the problem.
Stay connected with the Zodiacs:
http://www.facebook.com/ZodiacsTrackFoundation
http://plus.google.com/118026506791115185699/posts
http://www.youtube.com/channel/UCEwqTBsdHkCeNsfFJ-ZCdDQ
#trackandfield #teamzodiacs
Categories:
Lifestyle
,
Media
,
Sports & Fitness
Source:
The Zodiacs Track and Field Organization