Millicent Designs Launches Back to School Promotion for School Uniforms
---
New promotion offers 10% discount on uniforms orders of two or more. The promotion ends August 31st, 2014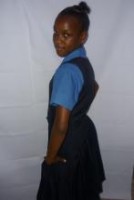 Kingston, Jamaica,
August 14, 2014 /KidZNewswire/ --
The new school year is almost upon us and parents are scrambling to get ready. To help ease the stress from parents? budgets Millicent Gordon of Millicent Designs is offering a 10% discount on orders of two or more uniforms received by August 31st.
?Parents have enough to worry about without worrying about uniform costs. So anything I can do to make this time of year easier for them I?m happy to do it,? said Gordon.
Last year Millicent designs launched a personalized service to assist parents ease some of the stress of traveling with the children to get their uniforms made. "I wanted to provide a more personalized service for my clients to make their experience easier and stress free," says Gordon. ?Often kids are nervous when it's time to have their new uniforms made so it?s more comfortable for them to be in their own home.?
"I love the fit and feel of my uniform. It feels good because it is made just right for me," says one satisfied client.
"My uniform fits me better than any store bought uniform. I love Ms. Gordon. She listens to me and answers any questions I have," says another client.
Millicent Designs have been in business for over 20 years specializing in school uniforms, women?s clothing and wedding dresses. Gordon?s motto is, ?If you can imagine, I can design it.?
Categories:
Business
,
Clothing and Accessories
,
Education
,
Lifestyle
,
Media
Source:
Millicent Designs