The Zodiacs Track and Field Organization Announces 1st Annual Change Drive
---
Your change adds up. Make every cent count.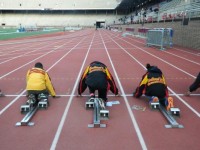 Bronx, NY,
February 10, 2016 /KidZNewswire/ --
The Zodiacs
is hosting their 1st annual change drive. All proceeds benefit the Zodiacs
Track & Field
Organization, Inc.
Where: 177 Dreiser Loop Bronx, NY 10475 Co-op City 2nd Fl When: Every Tuesday and Thursday during the Month of February Time: 6:00pm ? 7:30pm
The purpose of the Zodiacs Track & Field Organization, Inc.
athletic program
is to develop and train girls and boys of all ages for track and field competition. This training leads them to be competitive and successful on a local and national level. The organization provides an activity where youth can positively channel their energies, which builds self-confidence and self-esteem. Competition allows the youth to see themselves as achievers and goal setters. It further encourages them to strive for success on and off the field. We endeavor to develop our members' minds as well as their physical bodies.
The Zodiacs have members participate in educational and cultural trips that enlighten and increase their knowledge of other people, cultures and societies. We are committed to academic excellence and require our members to provide us with academic reports to ensure that academic standards are being met.
Zodiacs Track & Field Organization, Inc., provides our youth with an avenue to showcase their exceptional abilities to potential college and university admissions departments recruiters. We encourage our members to apply for all available scholarships. We also believe our program empowers our youngsters to make positive, healthy life-style choices and fights obesity. Our program allows our athlets to feel good about who they are and what they do, and strives to ensure that they will become positive, socially conscious role models for their peers. We aim to be part of the solution, not part of the problem.
Categories:
Entertainment
,
Lifestyle
,
Media
,
Sports & Fitness
Source:
The Zodiacs Track and Field Organization, Inc.