The Zodiacs Track and Field Organization Launches Sneaker Drive
---
The Bronx based track team is giving back to the community.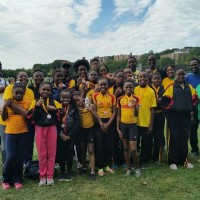 Bronx, NY,
February 12, 2016 /KidZNewswire/ --
As part of their pledge to make the team well rounded, The Zodiacs have launched a
sneaker drive
. The sneakers should be gently used and clean. The idea was the brain child of Zodiacs parent Shevinna Ling. Ling saw a need in the community and went into action.
"In a track team our youth go through sneakers so quickly. We've decided to recycle them to keep The Bronx running," said Ling.
The team is always open to ideas to make the kids socially aware and have them participate in
charity work
. "We are serious about our kids being role models for their peers," said
Coach Thomas Francis
.
The drive will be a month long event beginning on February 11th, 2016. Those wishing to donate sneakers can do so Tuesdays and Thursdays at the Community center in Co-op City. 177 Dreiser Loop, 2nd Floor, Bronx, NY 10475
At the end of the drive the sneakers will then be donated to the Hall Place Family Shelter.
About The Zodiacs
The Zodiacs Track & Field Organization, Inc. provides our youth with an avenue to showcase their exceptional abilities to potential college and university admissions department recruiters. We encourage our members to apply for all available scholarships.
We also believe our program empowers our youngsters to make positive, healthy life-style choices and fights obesity. Our program allows our athletes to feel good about who they are and what they do, and strives to ensure that they will become positive, socially conscious role models for their peers.
We aim to be part of the solution, not part of the problem.
Categories:
Advertising
,
Entertainment
,
Lifestyle
,
Media
,
Sports & Fitness
Source:
The Zodiacs Track & Field Organization, Inc.
Contact
---
The Zodiacs Track & Field Organization, Inc.
Thomas Francis
718 679 2060
Send Author an Email