Little Brown Girl Book Promotes Black Girl Magic
---
Two creative mothers work together to create an empowering book for young girls of color.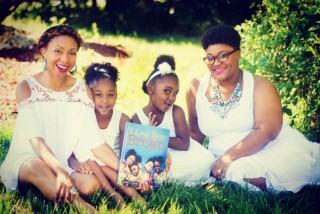 Middletown, Delaware,
February 03, 2018 /KidZNewswire/ --
In a generation where pop culture deems what is beauty and beautiful, it is vital for mothers to ensure that their daughters' confidence is intact. Daneya Jacobs and Atiya Chase purposely collaborated to produce an inspiring book that will affirm daughters everywhere of their purpose and worth. Their book,
I Love Your Brown
, is an ode to young brown girls, telling them they are magical in their own skin.
I Love Your Brown is a love letter filled with pictures that became the response for Atiya's daughter's insecurities about her brown colored skin. For Daneya, I Love Your Brown spoke to her daughter's strength and grit. I Love Your Brown emphasizes the importance of being confident of our own bodies. Shanicia Boswell of
Black Moms Blog
says the book enables mothers to express their love for their daughters and remind them how special they are. Charnaie Gordon of
Here Wee Read
says that I Love Your Brown is the perfect self-love affirmation to read over and over with little browns girls everywhere. The book also delivers messages of positivity, teaching young girls to be more loving with other girls and to nurture a supportive environment with other brown girls.
Authors, Daneya Jacobs and Atiya Chase, are both passionate about spreading the message of I Love Your Brown. Their workshop, Beautiful Reflections, sparks conversation about what is beauty and shatters socials norms. Lines from I Love Your Brown are reflected upon and engages women and girls to redefine brown beauty.
To book the authors of I Love Your Brown for a reading or their workshop, email
contact@iloveyourbrown.com.
I Love Your Brown
Written by Daneya Jacobs & Atiya Chase
Kindle| $3.99
Paperback| $13.99
Hardcover| $24.99
Book copies are available at Amazon, Barnes & Noble online, and other online book retailers.
About the Authors
Daneya Jacobs is a mother and entrepreneur. She and her husband opened Candy Connections, a candy store in Delaware, in 2014. She is an active member of her community through her work and several non-profits. In 2015, Daneya was awarded the Women in Business award by Delaware Today.
Atiya Chase, a mother, certified school counselor and middle school teacher, is an advocate of equality and breaking norms. Her passion is helping young girls gain better understanding of one another and boost their confidence. She is a graduate of the University of Delaware and Wilmington University. She authored her first book, The Jesus Habit for New Disciples with her husband in 2015.
Categories:
Beauty
,
Books
,
Education
Source:
Daneya Jacobs & Atiya Chase