Kidsmap Gets Kids to Ditch the Screen for Interactive, Educational Experience
---
Awesome Maps creator Simon Schuetz creates beautifully-illustrated world map for children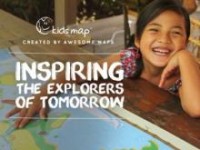 CHARLOTTE, N.C.,
April 27, 2014 /KidZNewswire/ --
Entrepreneur and longtime cartographer Simon Schuetz of Awesome Maps recently noticed a trend that is becoming more and more concerning; children, especially this day in age, are completely inundated by multiple screens on a daily basis. From computers to mobile phones and portable video games, parents are finding it increasingly harder to get their kids away from these screens for meaningful life experiences.
(Photo:
http://photos.prnewswire.com/prnh/20140425/MN12235)
Because of this epidemic, Schuetz aims to take children away from their screens and provide them with a fun and educational experience with the kidsmap. After successfully crowdfunding the Bucketlistmap and raising nearly $60,000 on Kickstarter, Schuetz is now working on a map for children that will pique their curiosity to explore the planet, all without a screen.
As a child, Schuetz felt that children's maps weren't really made for children; they were often too cluttered and confusing. This problem inspired him to expose kids to the world through a beautifully-illustrated map that incorporates stickers and quiz flash cards for a completely interactive learning experience that the entire family can enjoy together.
Simon and his team began with a simple, but beautifully-illustrated, map base that shows continents, deserts, and major mountain ranges. The base offers plenty to explore, but is simple enough for children to understand without feeling overwhelmed. Next, the team wanted to add an interactive element to keep kids interested, so they incorporated removable stickers that range from animals that roam the Serengeti to natural wonders like the Grand Canyon and man-made marvels like the Great Wall of China.
The kidsmap's flash cards offer more information about each sticker, including interesting facts and where each marvel can be found throughout the world. They take the map to another level, turning it into a full-on geography game that children will never forget. It's been tried and tested by both parents and kids?the response has been amazing. Parents and their children can explore the world together, using stories from their own travels or the educational flash cards as a guide on their educational and fun journey.
To pre-order the kidsmap for $35 on Kickstarter and support Schuetz's campaign, visit
http://bit.ly/AMKidsKS.
Those interested in keeping up with the campaign and learning about contests, announcements and more should Like Awesome Maps on Facebook and Follow Awesome Maps on Twitter @awesome_maps.
About Awesome Maps
Awesome Maps creates awesome illustrated world maps, and believes that maps should offer more than just continent outlines, political boundaries and numbered roads. This line of beautifully illustrated maps show travelers the world how they want to see it?through detailed, hand-drawn illustrations, useful information and more. Awesome Maps inspires the explorers of tomorrow. For more information, visit
www.awesome-maps.com.
Media Contact: Jessica Chesney, Awesome Maps, (845)821-3728,
media@awesome-maps.com
PR courtesy of PR Newswire iReach.
Categories:
Education
,
Entertainment
,
Games
,
Technology
Source:
Awesome Maps